Bilahari Kausikan argues in op-ed that coronavirus crisis reflects Beijing's dilemma of balancing political control and economic efficiency
Chinese embassy condemns article as an attempt to smear and misinterpret China's politics and leadership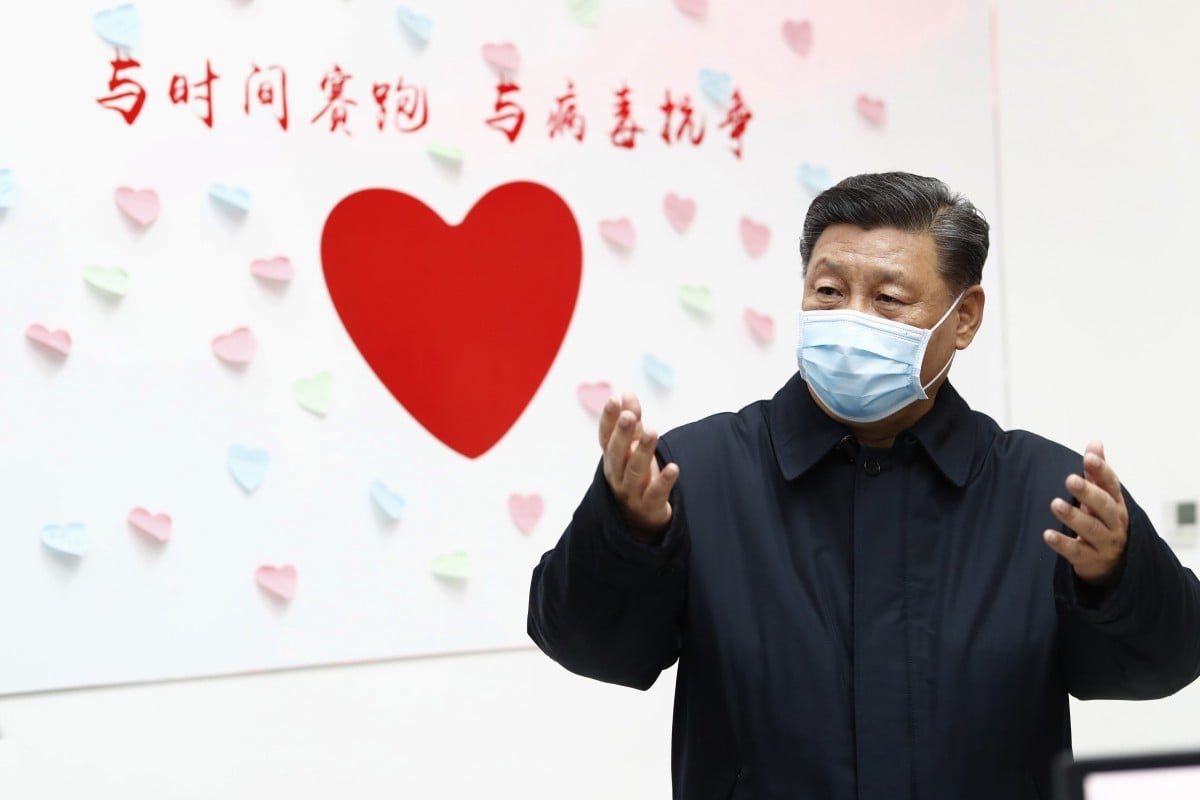 Chinese President Xi Jinping gestures near a heart-shaped sign and the slogan "Race against time, fight the virus" during an inspection of Chaoyang District's centre for disease control and prevention in Beijing on February 10. Photo: XinhuaThe Chinese embassy in Singapore has rapped a former senior diplomat in the city state for an op-ed where he argued, among other things, that the coronavirus epidemic had dented the Chinese Communist Party's credibility with its citizens.
Bilahari Kausikan, who retired as permanent secretary of the Singapore Foreign Affairs Ministry in 2013, described China's handling of the crisis as a consequence of its Leninist value system, where a vanguard party has absolute control of state and society.
He said this system meant Beijing had the political will to order a lockdown of the epicentre of the Covid-19 contagion – Hubei province – and to build new hospitals rapidly, but had also caused reluctance among lower officials to sound the alarm to their higher-ups as the virus spread.The virus crisis also reflected the CCP's fundamental dilemma of how to strike a balance between political control and economic efficiency, and it was unclear how it and President Xi Jinping would face this challenge, he said. China orders complete ban on trade in wildlife for food to combat coronavirus epidemic
The Chinese embassy, in a post on its Facebook page on Tuesday night, characterised Bilahari's commentary as a bid to smear and misinterpret China's politics and leadership, likening it to the "stereotype cliché of Western anti-China voices".
"At the difficult periods when Chinese people are making enormous efforts and sacrifices to fight the outbreak of the novel coronavirus pneumonia, the sense of justice of the author to ideologically denigrate China and sell his long-held prejudice and even hostility towards China has to be questioned," said the statement, which was attributed to the embassy spokesperson.
The embassy's response comes as China's top diplomats fend off criticisms of Beijing's handling of the outbreak, which has since infected more than 80,000 and killed more than 2,700 people worldwide. While the rate of new infections is slowing in China, a surge of cases in countries such as Italy, Iran and South Korea have fuelled fears of a pandemic.This Week in Asia NewsletterGet updates direct to your inboxSUBSCRIBEBy registering, you agree to our T&C and Privacy Policy
The commentary by Bilahari, who is chairman of the National University of Singapore's Middle East Institute, was recently published in This Week in Asia. It originally appeared on the website of Canadian international affairs magazine Global Brief and was later picked up by Singapore's The Straits Times.
In his piece, Bilahari pointed out that the CCP was still "broadly popular" for improving the lives of hundreds of millions of Chinese and was an "extremely adaptive organisation". But these were times of internal and external uncertainty, he said, and the CCP was approaching an "inflection point" that could lead to black swans – unpredictable events with potentially severe consequences.
One of these was Xi himself, as the concentration of power around the leader had created "a single point of failure" in China's governance, where a single mistake could have widespread and perhaps catastrophic results, he said. The others were the US-China trade war and the anti-government protests in Hong Kong.
https://www.scmp.com/week-asia/politics/article/3052343/coronavirus-china-raps-ex-singapore-diplomat-bilahari-kausikan?fbclid=IwAR2BaCxHk08bEs-9iJqc0Yub9Znn5VgnpUOqLCPmOHgaXmxdkNHnS67mxPU
Singapore stops teachers using Zoom app after 'very serious incidents'
https://www.reuters.com/article/us-zoom-video-comm-privacy-singapore/singapore-stops-teachers-using-zoom-app-after-very-serious-incidents-idUSKCN21S0AH