European Commission vice-president reveals the bloc will set out proposal in June for powers to tackle foreign subsidies, state ownership
It may further complicate negotiations between Brussels and Beijing over an investment agreement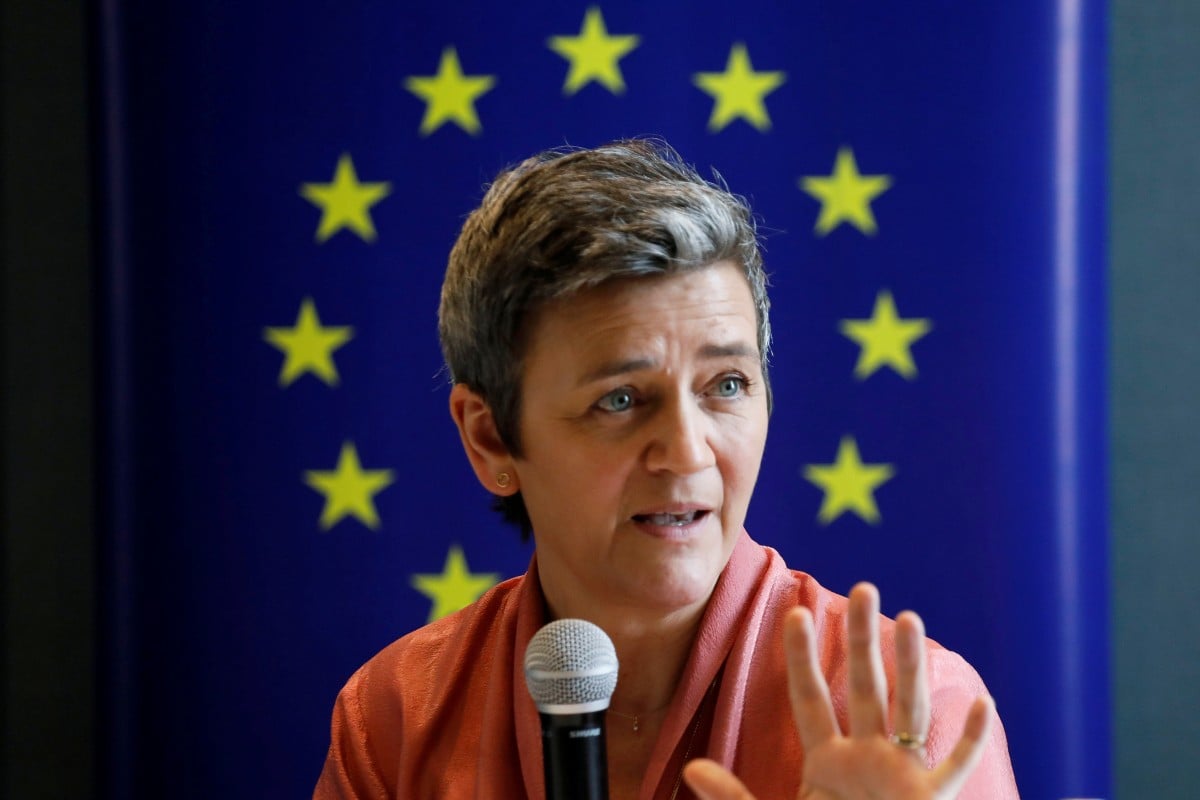 Margrethe Vestager, vice-president of the European Commission, said the EU would set out a plan to protect "fair competition". Photo: ReutersChina's state-backed companies will be "the prime target" of an EU proposal to step up scrutiny of their "unfair advantage" over counterparts in Europe, in response to growing concern about Chinese investments in France and Germany.
Margrethe Vestager, the EU's chief of competition policy and a vice-president of the European Commission, revealed on Monday that the EU would set out a plan in June to strengthen the bloc's power over "fair competition".
According to a European Union source familiar with the proposal, it will "clearly have in mind Chinese state-owned and state-backed enterprises as the prime target, given their increasingly dominant and aggressive role over critical sectors in Europe".
"The EU wouldn't single out any country but it doesn't take more than three seconds to work out which country is the biggest concern when it comes to state-owned companies," said the source, who requested anonymity.The proposal could further complicate ongoing negotiations between Europe and China over an investment agreement that the two sides had hoped to conclude by the end of the year.
Europe and China are in negotiations for an investment agreement. Photo: Bloomberg
"We're working on new powers to protect fair competition – powers that would allow us to deal with, for example, the harm that foreign subsidies and state ownership can do to competition in Europe," Vestager said at a College of Europe conference in Bruges on Monday.
"By the end of June, we plan to publish a white paper, to get input on our ideas for how these new powers could work," she said.US-China Trade War NewsletterGet updates direct to your inboxSUBSCRIBEBy registering, you agree to our T&C and Privacy Policy
White papers are proposals for interested parties to comment on before a final draft is adopted as legislation.
Last month, Germany and France joined Italy and Poland to put pressure on Vestager to come up with a proposal to revamp EU antitrust rules by the end of June.
The two most influential powers in the EU had earlier expressed discontent over Vestager's decision to block a planned merger between Germany's Siemens and Alstom of France – Europe's two largest suppliers in the railway market.
Vestager had argued that the merger "would have harmed competition in markets for railway signalling systems and very high-speed trains".
But Germany and France saw the merger as the only way for Europe to compete with Chinese behemoth CRRC Corporation, which makes more than 200 high-speed trains a year, compared to the 35 produced by Alstom and Siemens combined.
A Chinese diplomatic source, speaking on condition of anonymity, said a main concern would be how the EU defined "state-backed" in the proposal."Does Huawei count?" he asked, referring to Huawei Technologies, the Chinese firm that the EU is wary of allowing into its next-generation 5G mobile networks.
"They keep saying Huawei is 'state-backed' even though we do not agree," the diplomatic source said.
Vestager also signalled on Monday that the EU would take a tougher line against dominant companies squeezing out smaller rivals, saying a cease-and-desist order was not enough, and action might be needed on both sides of the Atlantic.
"If the market has already tipped and it's no longer possible for others to compete, then we might have to order those companies to neutralise the effects that they've had on competition," she said.
"I expect this issue will be an important theme for us in April, when we meet our counterparts from the US Department of Justice and the Federal Trade Commission for a workshop on remedies."Purchase the China AI Report 2020 brought to you by SCMP Research and enjoy a 20% discount (original price US$400). This 60-page all new intelligence report gives you first-hand insights and analysis into the latest industry developments and intelligence about China AI. Get exclusive access to our webinars for continuous learning, and interact with China AI executives in live Q&A. Offer valid until 31 March 2020. China-EU relations US-China trade war | US-China relations | State-owned enterprises
https://www.scmp.com/news/china/diplomacy/article/3064799/chinas-state-owned-enterprises-prime-target-new-eu-competition