A study says the new coronavirus is considerably infectious 2.5 days before symptoms develop in a patient. It highlights the importance of measures such as social distancing and improved personal hygiene in preventing the asymptomatic spread of the virus.
People infected with the new coronavirus may be most contagious right when their symptoms begin to show and even a couple of days beforehand.
Scholars observed the highest viral load in throat swabs at the initial sign of symptoms and inferred that infectiousness peaked on or before symptom onset, and people may be highly contagious 2.5 days before symptoms show. It is a pattern similar to that of seasonal influenza.
The findings set the new coronavirus apart from the Sars virus, which becomes most infectious 10 to 12 days after the onset of symptoms.
Estimating that 44% of transmissions could take place before symptoms develop in an infected person, the research underscores the capability of the new virus to silently spread before patients can be detected and isolated.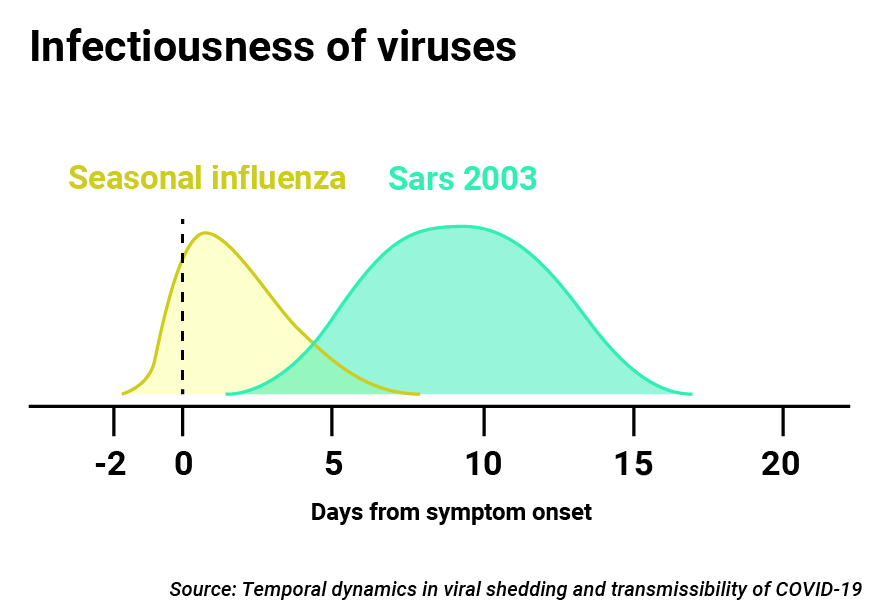 The new coronavirus is said to have infectious patterns more similar to that of viruses that cause seasonal influenza than the Sars virus.
The research, a preprint that has not been peer-reviewed, involved 94 hospitalized patients in the southern Chinese city of Guangzhou. It was conducted by a team of researchers at Guangzhou Medical University and the University of Hong Kong.
"With a substantial proportion of pre-symptomatic transmission, measures such as enhanced personal hygiene among the general population and social distancing would likely be the key instruments for disease control in the community," they wrote.
The researchers said they found no significant difference in the infectiousness of patients of different sex, age groups and disease severity.