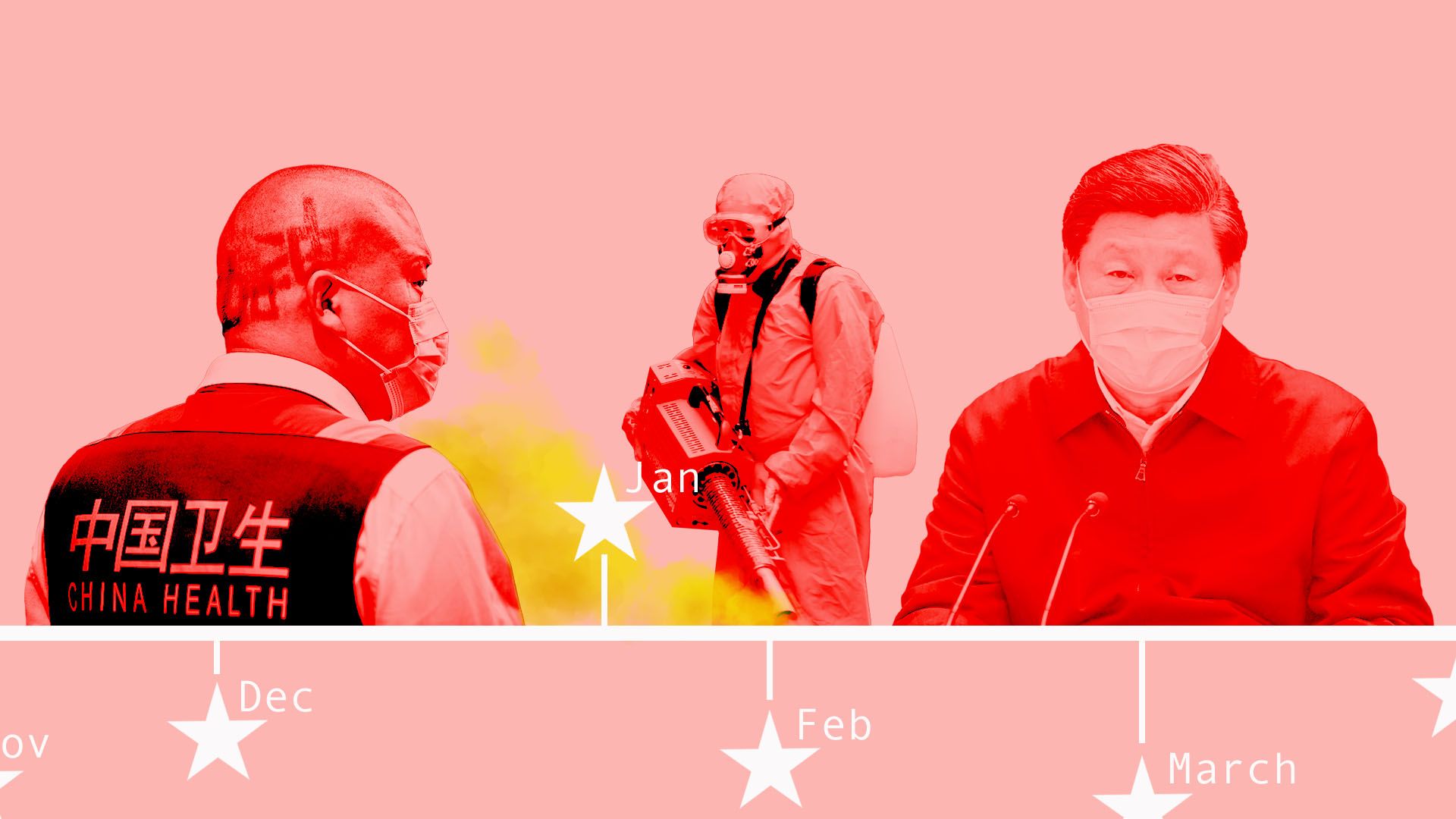 Photo Illustration: Sarah Grillo/Axios Photos: Stringer/Getty Images, Feature China/Barcroft Media via Getty Images, Peng/Xinhua via Getty via Getty Images
Axios has compiled a timeline of the earliest weeks of the coronavirus outbreak in China, highlighting when the cover-up started and ended — and showing how, during that time, the virus already started spreading around the world, including to the United States.
Why it matters: A study published in March indicated that if Chinese authorities had acted three weeks earlier than they did, the number of coronavirus cases could have been reduced by 95% and its geographic spread limited.
This timeline, compiled from information reported by the Wall Street Journal, the Washington Post, the South China Morning Post and other sources, shows that China's cover-up and the delay in serious measures to contain the virus lasted about three weeks.
Dec. 10: Wei Guixian, one of the earliest known coronavirus patients, starts feeling ill.
Dec. 16: Patient admitted to Wuhan Central Hospital with infection in both lungs but resistant to anti-flu drugs. Staff later learned he worked at a wildlife market connected to the outbreak.
Dec. 27: Wuhan health officials are told that a new coronavirus is causing the illness.
Dec. 30:
Ai Fen, a top director at Wuhan Central Hospital, posts information on WeChat about the new virus. She was reprimanded for doing so and told not to spread information about it.
Wuhan doctor Li Wenliang also shares information on WeChat about the new SARS-like virus. He is called in for questioning shortly afterward.
Wuhan health commission notifies hospitals of a "pneumonia of unclear cause" and orders them to report any related information.
Dec. 31:
Wuhan health officials confirm 27 cases of illness and close a market they think is related to the virus' spread.
China tells the World Health Organization's China office about the cases of an unknown illness.
Jan. 1: Wuhan Public Security Bureau brings in for questioning eight doctors who had posted information about the illness on WeChat.
An official at the Hubei Provincial Health Commission orders labs, which had already determined that the novel virus was similar to SARS, to stop testing samples and to destroy existing samples.
Jan. 2: Chinese researchers map the new coronavirus' complete genetic information. This information is not made public until Jan. 9.
Jan. 7: Xi Jinping becomes involved in the response.
Jan. 9: China announces it has mapped the coronavirus genome.
Jan. 11–17: Important prescheduled CCP meeting held in Wuhan. During that time, the Wuhan Health Commission insists there are no new cases.
Jan. 13: First coronavirus case reported in Thailand, the first known case outside China.
Jan. 14: WHO announces Chinese authorities have seen "no clear evidence of human-to-human transmission of the novel coronavirus."
Jan. 15: The patient who becomes the first confirmed U.S. case leaves Wuhan and arrives in the U.S., carrying the coronavirus.
Jan. 18:
The Wuhan Health Commission announces four new cases.
Annual Wuhan Lunar New Year banquet. Tens of thousands of people gathered for a potluck.
Jan. 19: Beijing sends epidemiologists to Wuhan.
Jan. 20:
The first case announced in South Korea.
Zhong Nanshan, a top Chinese doctor who is helping to coordinate the coronavirus response, announces the virus can be passed between people.
Jan. 21:
The U.S. Centers for Disease Control and Prevention confirms the first coronavirus case in the United States.
CCP flagship newspaper People's Daily mentions the coronavirus epidemic and Xi's actions to fight it for the first time.
China's top political commission in charge of law and order warns that "anyone who deliberately delays and hides the reporting of [virus] cases out of his or her own self-interest will be nailed on the pillar of shame for eternity."
Jan. 23: Wuhan and three other cities are put on lockdown. Right around this time, approximately 5 million people leave the city without being screened for the illness.
Jan. 24–30: China celebrates the Lunar New Year holiday. Hundreds of millions of people are in transit around the country as they visit relatives.
Jan. 24: China extends the lockdown to cover 36 million people and starts to rapidly build a new hospital in Wuhan. From this point, very strict measures continue to be implemented around the country for the rest of the epidemic.
The bottom line: China is now trying to create a narrative that it's an example of how to handle this crisis when in fact its early actions led to the virus spreading around the globe.
Editor's note: This story will be updated as more information is reported.
Sign up for Bethany's weekly newsletter, Axios China.
https://www.axios.com/timeline-the-early-days-of-chinas-coronavirus-outbreak-and-cover-up-ee65211a-afb6-4641-97b8-353718a5faab.html
China's coronavirus cover-up was among worst in history, congressman says
The top Republican on the House Foreign Affairs Committee has accused China of carrying out "one of the worst cover-ups in human history" over the novel coronavirus outbreak and inflicting a pandemic and economic calamity on the world.
Why it matters: Rep. Michael McCaul's rhetoric is characteristic of the growing hawkishness toward China among many in Washington, D.C. even, or especially, amid a crisis that is battering both countries.
Driving the news: McCaul spoke with Axios shortly after China revoked credentials from reporters at five U.S. media outlets.
"If they expel our journalists, if that's their answer, I worry we will never get to the bottom of this," McCaul said. "But at the end of the day, we will be pointing the finger at China."
Between the lines: China has been criticized in Washington and beyond for prioritizing the containment of information, rather than of the virus itself, when it emerged in Wuhan.
It has also been praised for the "war" it belatedly waged on the virus, with Beijing claiming its decisive action "bought the world time."
Increasingly confident it's beyond the worst, China is attempting to play a global leadership role. European politicians, including in Serbia and Italy, have praised China for offering help when the EU could or would not.
The big picture: President Trump, Secretary of State Mike Pompeo and other prominent officials have drawn China's ire by referring to COVID-19 as the "Chinese virus" or "Wuhan virus."
Communist Party officials are simultaneously engaged in a disinformation campaign, questioning the origins of the virus and even claiming it may have been spread by the U.S. military.
That back-and-forth has merged with another, over access for journalists from both countries.
What they're saying: "This came out of Wuhan, China is responsible for that, and they don't like to hear that so their response is to expel our journalists," McCaul told Axios. "We want the truth to come out about this. I do worry — for two months they tried to cover it up, which made this situation worse."
McCaul claimed "unsanitary practices" in China — in the case of COVID-19 at a wet market in Wuhan — had been responsible for several viruses that spread beyond China's borders.
"I just don't think they can get away with it this time. I think the World Health Organization should play a role here in — instead of applauding China for their efforts — really holding them responsible for what they've done. They are the cause of a global pandemic."
McCaul also said he suspected that China had massively underreported the death toll there.
His bottom line: McCaul said the crisis presented the U.S. and American businesses with an opportunity to re-examine their dependence on China. "That's going to be the ultimate impact of this whole crisis," he said.
https://www.axios.com/china-coronavirus-cover-up-wuhan-pandemic-fa894bb8-998d-494b-8e7a-e834f86d2ea9.html
How China Is Reshaping the Coronavirus Narrative
Coronavirus NarrativeHow China Is Reshaping the Coronavirus Narrative
By Muyi Xiao, Drew Jordan, Meg Felling and Christoph Koettl•March 18, 2020
We looked at China's expansive propaganda system aimed at foreigners and analyzed thousands of English-language tweets from state media and diplomats. Here are the coronavirus messages China is projecting to the world.